Comprehensive service and support
when and where you need it
Globeweigh offers a comprehensive service, calibration and support capability for a wide range of industrial weighing equipment throughout Ireland. We support both our own and other manufacturers' weighing equipment, and packages can be tailored to meet your specific operational and fiscal requirements.
Service is available from our centres in Armagh, Kildare and Cork, with 24 hour cover also available for companies operating around the clock and at weekends.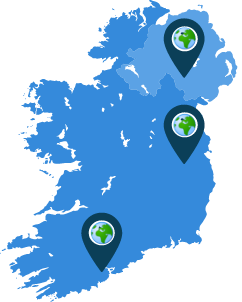 KEEPING YOUR CRITICAL WEIGHING EQUIPMENT IN TIP-TOP CONDITION
We offer customer support for all types of equipment as follows:
Weighbridges
Food Weighing & Labelling
Floor Scales
Counting Scales
Silos
Tank & Hopper Scales
Check-weighing
Axle Weighing
Coal Baggers
We appreciate and understand the importance of a well-defined and implemented service and mainte¬nance program. Your equipment and installation have their own specific requirements and will only perform as well as the maintenance program you have in place. Our support packages are designed to suit your exact needs, giving you time to focus on the efficient running of your business, without having to worry about breakdowns. Service visits are arranged to suit your company's working pattern and we can fit in with scheduled shutdowns or plan visits during evenings and week-ends. If your equipment is used more extensively at certain times of the year due to seasonal influences, we will assess this and provide a plan that is just right for your business.
Coverage for all public and bank holidays:
Coverage for week-ends
Priority four hour response time
24 hour telephone support
INDUSTRIAL WEIGHING CALIBRATION
Globeweigh are Irelands experts in industrial weighing calibration – if it weighs the chances are we calibrate it! We offer a full range of calibration depending on your weighing device and requirements. We are an approved NSAI verifier in Ireland. For more information on our calibration
click here
.

FROM WEIGH PRICE LEBELLERS TO WEIGHBRIDGES TO BENCH SCALES
Globeweigh's skilled engineers are trained to support a diverse range of weighing equipment from laboratory balances through to weighbridges. Our core philosophy is based on identifying and remedying any potential problems ahead of time, thereby optimising your equipment 'uptime'. Contact us to find out more about service and support programs for automatic and non-automatic weighing equipment and instrumentation including:
Weighbridges
Bench scales
Floor scales
Counting scales
Weigh price labellers
Pallet truck scales
Forklift truck scales
Crane scales
Laboratory scales
Hopper scales
Tank & silo weighing systems
Mechanical scales
Axle weighers and Check weighers